What is telegram reactions?
Telegram Reactions is one of the telegram features that allow peoples to share their feeling below each post of your channel or group.
That's proud of MemberTel Team to be the first company who providing a powerful and flexible Telegram Reactions Bot to send reactions on your channel posts manually and even automatically.
You can set random number for the quantity of sent Emojis, for example send 2 to 10
. The bot will choose a random number from 2 to 10 !!! (Note that we talking about the Quantity of each Emoji)
This service can help your channel to seems be more legit because your subscribers will see your posts taken reactions by peoples.
Using the telegram reactions service is helpful to create a massive telegram channel.
Telegram Reactions Bot Requirements
To use this service first of all you should enable telegram reactions on your channel by following this easy steps:
Go to the channel profile > Edit > Reactions
Then enable all of the buttons.
And now you allowed people to send reactions below your channel posts.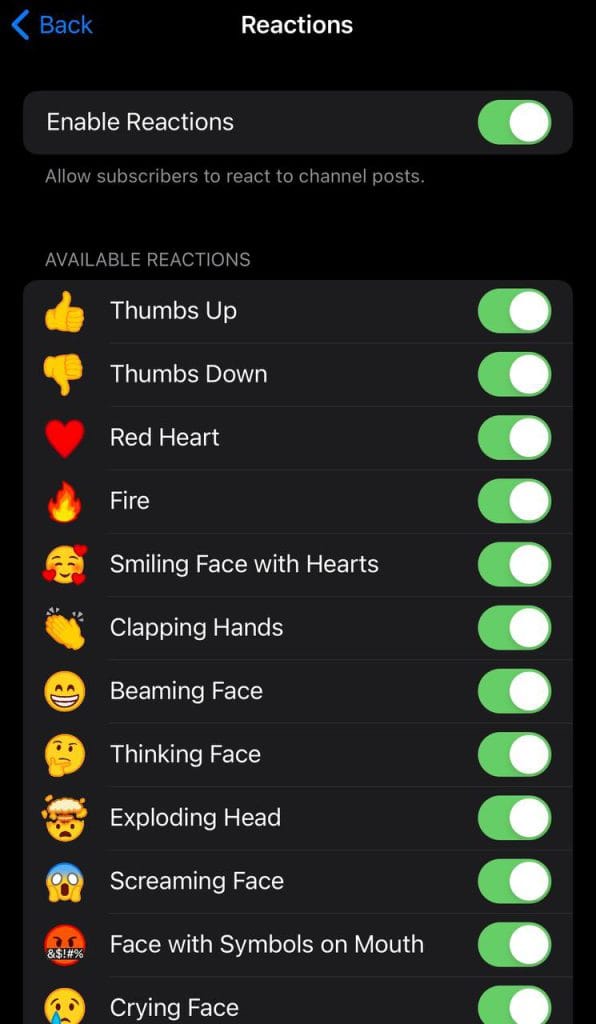 How To Increase Telegram Channel Reactions
Telegram Reactions Bot Setup
So to create a package just follow the video.
Click on "Setup"
"Create a package"
Select a emoji, Set minimum quantity, set maximum quantity then select the next emoji
Once you selected all of the favorite Emojis click on "Done"
Then you will see the emojis inside of quantities, so click on "Yes"
Now you can set the MemberTel bot should select how many emojis to send each time, for example if in your package there is 3 different emojis, you should select a range between 1 to 3
Buy Telegram Automatic Reactions
We providing Automatic Telegram Reactions as well.
to buy telegram automatic reactions just place your order and our team will help you to setup the bot to select your favorite Emojis
By activating this service, once you sharing a post, the reactions coming automatically.
The automatic reactions will make your channel looks more active and legal.
We also providing Telegram Automatic Views for your channel posts as well.
Frequently Asked Questions
Is this bot able to send automatic reactions?
Yes, you can set a channel on the bot an once you sharing the posts, you will receive the reactions.
What kind of Emojis can i receive?
It's flexable at all, that means you can create a package and put your favorite reactions there. even you can configure the bot to receive the reactions randomly.
Why should i use the telegram post reaction bot?
This service can bring more trust for your channel so it can increase your business audience.